ADDICTION TREATMENT CENTER ENROLLMENT
To enroll into our program please give us a call to schedule a date and time for your intake. Or if you have any additional questions.
Call Now to Enroll
ADDICTION TREATMENT REQUIREMENTS
To be eligible for enrollment, you or your loved one must meet the following requirements:
Must be over the age of 18.
Cannot be a registered sex offender.
Must be 24 hours without the use of any drugs or alcohol.
General intake hours take place Monday through Friday from 9:00 AM to 3:30 PM.
ADDICTION RECOVERY PROGRAM COST
Donations primarily fund U-Turn For Christ. This gives us the ability to keep the cost of services as low as possible for our residents. The expenses include housing and food.
U-Turn for Christ asks for a six hundred dollar per month donation, with a minimum two-month commitment, payable upon arrival, in the form of a cashier's check, money order, or cash. The donation will cover housing costs for the first phase of the program (Phase-1, two months).
Frequently Asked Questions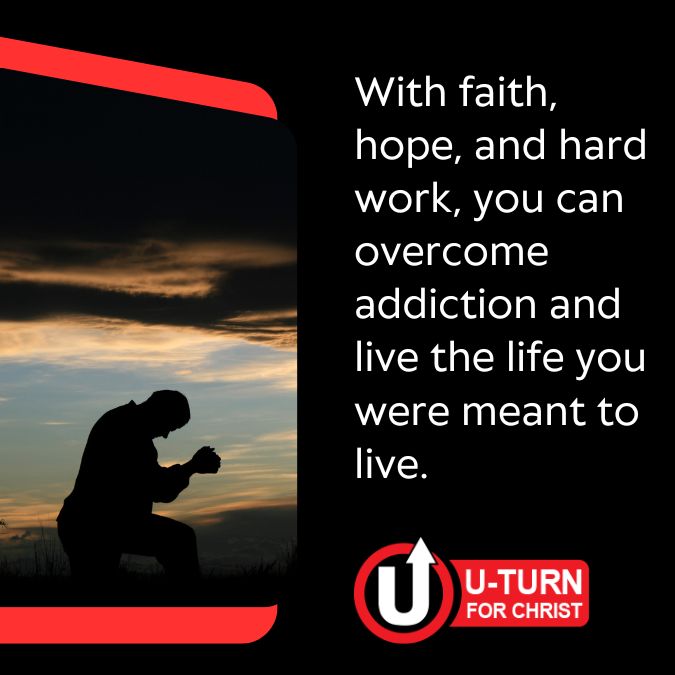 WHAT TO BRING DURING YOUR STAY AT OUR ADDICTION TREATMENT CENTER CAMPUS
Items to Bring
About one week's worth of clothing (maximum of one bag)
Including:
A couple of sweatshirts
Workboots
Clothes to work in
No tank-tops, cut-off sleeves, or V-neck t-shirts
No Inappropriate logos on shirts (skulls, women, alcohol, etc.)
Bible only. No other reading material
Spiral notebooks, pens, highlighters, stamps, and envelopes
Sleeping bag and pillow
Toiletries (cannot contain alcohol) such as Listerine, Cologne, or aftershave. Razors are permitted.
Two bath towels and shower shoes (flip-flops)
Personal CD player (No AM/FM radios or iPods)
Christian CDs only. (No copies / recorded CD's, originals only)
Laundry detergent
Hamper Bag
Water bottle/ plastic or metal
Additional items for Women
All of the above applies to women, including the following…
Clothes must be non-conforming. We recommend wearing a men's style t-shirt (crew neck), one size larger than what you normally wear.
Shorts must be below the knees or longer.
No yoga pants or leggings